Daemons Discuss!
TBOL ch 3
Family Meeting. Time: 4 am. Place: The de Clermont library, Sept-Tours. RSVP: N/A. Be there, or else. That sums it up, doesn't it? We learn that we STILL need to learn a lot about vampires (geez, Matthew)! This is a long one, but we had some things to say . . . stay tuned during Save It For the Show. We saved plenty for the show. This is another long episode, guys; it's just going to be that way for a while, since 2020 continues to surprise and (DISMAY) delight.
In this episode:
By the segment . . .
(00:15) Intro/Warning/Patreon sponsorship
(04:41) Discusser emails/Speakpipe - Thank you Camille, Kit, and Lindsey -Truncated emails can be read *HERE*
(10:11) Main discussion - Ch 3, TBOL
(1:05:24) Housekeeping - Thank you Camille, Olivia, and Patricia. Sponsored by Zoe Gibson
(1:10:46) Save It For the Show - Topic: All Souls -- what does that mean in the human world? A discussion about race in the US. Sponsored by Leah Tedrow
(1:52:56) Promo break - scroll down, or click here to get a hold of us and/or become a Discusser -- information on joining our Facebook group also located on that page.
(1:54:53) Farewell -- until next time.
Informational links:
Credits/Copyright Information * Intro music: "Ghost Dance" (edited down to second chorus) by Kevin Macleod, licensed for use by Creative Commons.
* Outro music: Rimsky-Korsakov - "Scheherazade Symphonic Suite for Orchestra Op.35 - IV. Allegro molto," Public domain/copyright-free.
* In this episode: Mozart - "The Requiem in D minor, K. 626 - Lacrimosa dies illa" - Public domain/copyright-free.
* All other music used is licensed via several different royalty-free sources (as are sound effects), with exception to the following entries:
* 'The Price is Right' Theme Song -- both Wikipedia and IMDb credits Edd Kalehoff as composer, but check it—Edd Kalehoff's Wikipedia page has this line: "Composer of about 1,000 pieces…his credits include the majority of cues used on The Price is Right (although the 1972 theme is officially attributed to Sheila Cole)." -- Used as celebration music for Winning a blood vow! Get it? Oy! We know we are pushing it but, it was used as strictly PARODY! 😬 Please don't sue us!
* "Rhiannon" is a song written by Stevie Nicks and originally recorded by Fleetwood Mac on their eponymous album in 1975; it was subsequently issued as a single the following year. "Rhiannon" was voted #488 in The 500 Greatest Songs of All Time by Rolling Stone magazine. Its US chart peak was in June 1976, when it hit #11. It peaked at #46 in the UK singles chart for three weeks after re-release in February 1978.The song is referred to as simply "Rhiannon" on Fleetwood Mac albums, except on the 2003 and 2016 remasters of Fleetwood Mac and the 2018 compilation Don't Stop - 50 Years, on which the title "Rhiannon (Will You Ever Win)" is used. The single version also used this title when it was originally released to the European and American markets. For this episode's context, we claim "Fair Use"; in the text of the Trilogy it is cited that the Bishop house plays Fleetwood Mac songs at random.
* "Save it for the Show" segment introduction voice-over by Devyn Grendell
* Cover art (+ all variations associated w/ it): © Daemons Domain
* The term "unofficial" is explained in our disclaimer located in Terms of Use - item 14.
* The Daemons Discuss podcast is hosted and produced by the owners (Angela, Jean and Valerie) of Daemons Domain and can also be found by entering the url http://www.DaemonsDiscuss.com in your browser, (listed on the various podcast syndicates like iTunes, Stitcher, etc.) which will redirect you back to the parent site, Daemons Domain.
* This podcast is intended for personal download/consumption. Please see our Terms of Use; item 3.
* FTC: Our podcast episodes are solely sponsored by listeners via Patreon.
* Our episode titles are a loving tribute to the show "Friends" just 'cause we love Friends and - let's face it - it's easier! Here's how one of the show creators explains their reasoning:
Jeff Greenstein: "When Marta & David & Jeff & I did 'Dream On', we used to spend a lot of time thinking about titles, because they were on-screen at the top of each episode. On "Friends", we decided that was a waste of time. We figured, why not name each episode after the thing that people will ostensibly be talking about around the water-cooler the next day?"
---
See acast.com/privacy for privacy and opt-out information.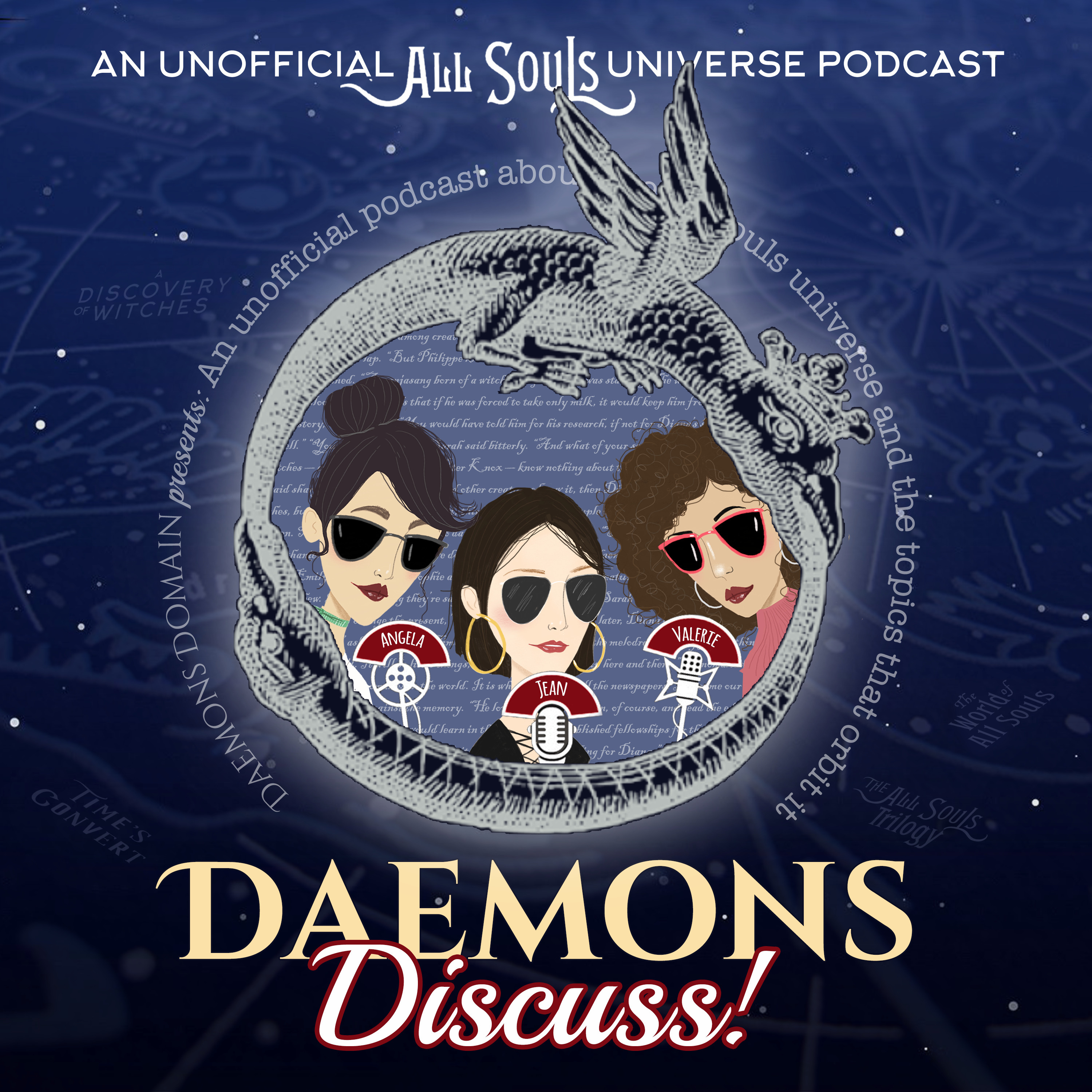 Hi! We're Angela, Jean & Valerie -- aka
'The Daemons'
-- we talk about the All Souls Universe by Deborah Harkness. This includes the trilogy (
A Discovery of Witches, Shadow of Night, The Book of Life
),
Time's Convert
, and
The World of All Souls
. As new episodes are released in the US/Canada, we also unpack the television series based on these beloved books (titled
A Discovery of Witches
). Go on! Put in your ear buds, pull up your chair, bring your beverage of choice and join us! We promise that we won't bite ... we'll leave that for the vampires.
All Souls-ing since 2012, the Daemons run the online fanzine,
Daemons Domain
-
series + fandom news, giveaways & All Souls magic.
---
See acast.com/privacy for privacy and opt-out information.
[This description is from Daemons Discuss!.]
All Souls-ing since 2012, we are the Daemons – All Souls Trilogy (by Deborah Harkness) enthusiasts exploring the All Souls universe in this unofficial fan podcast.
TV & Film podcasts
Visit podcast
A random podcast 🎲