Daemons Discuss!
A Discovery of Witches – Season 3, Episode 2
A Discovery of Witches – Season 3, Episode 2
Description: Father Hubbard is given an ultimatum from his sire, Benjamin — which leads him to desperate measures; go to Matthew to handle this problem, because he is the "break-in-case-of-emergency" option! The problem? Jack Blackfriers. Yes! He's back! He's a vampire (ooooh…). He wanted to stay alive in hopes to meet Diana and Matthew once again (awwww…). He's got blood rage (eeeeek!)
Meanwhile, Christopher Roberts and his "annoying" sidekick, Miriam need more data and more researchers. The data exists — in New Orleans. The researchers are also available; a bunch of Chris's teen-aged students. Will Matthew agree? Will Jack be OK? Will all of this be resolved in time for babies to arrive? Stay tuned, audience.
Thanks to Melanie Nelson for sponsoring this episode, and to all, please enjoy…
More:
*Email: [email protected]
*Voice message: http://Speakpipe.com/DaemonsDiscuss, or call us (US number/carrier rates apply): 1 (360) 519-7836
*Social Media: Facebook: https://www.facebook.com/DaemonsDiscuss Twitter: https://twitter.com/DaemonsDiscuss Instagram: https://www.instagram.com/daemonsdiscuss/
*Podcast home page: http://DaemonsDiscuss.com
*Main page: http://www.DaemonsDomain.com
---
See acast.com/privacy for privacy and opt-out information.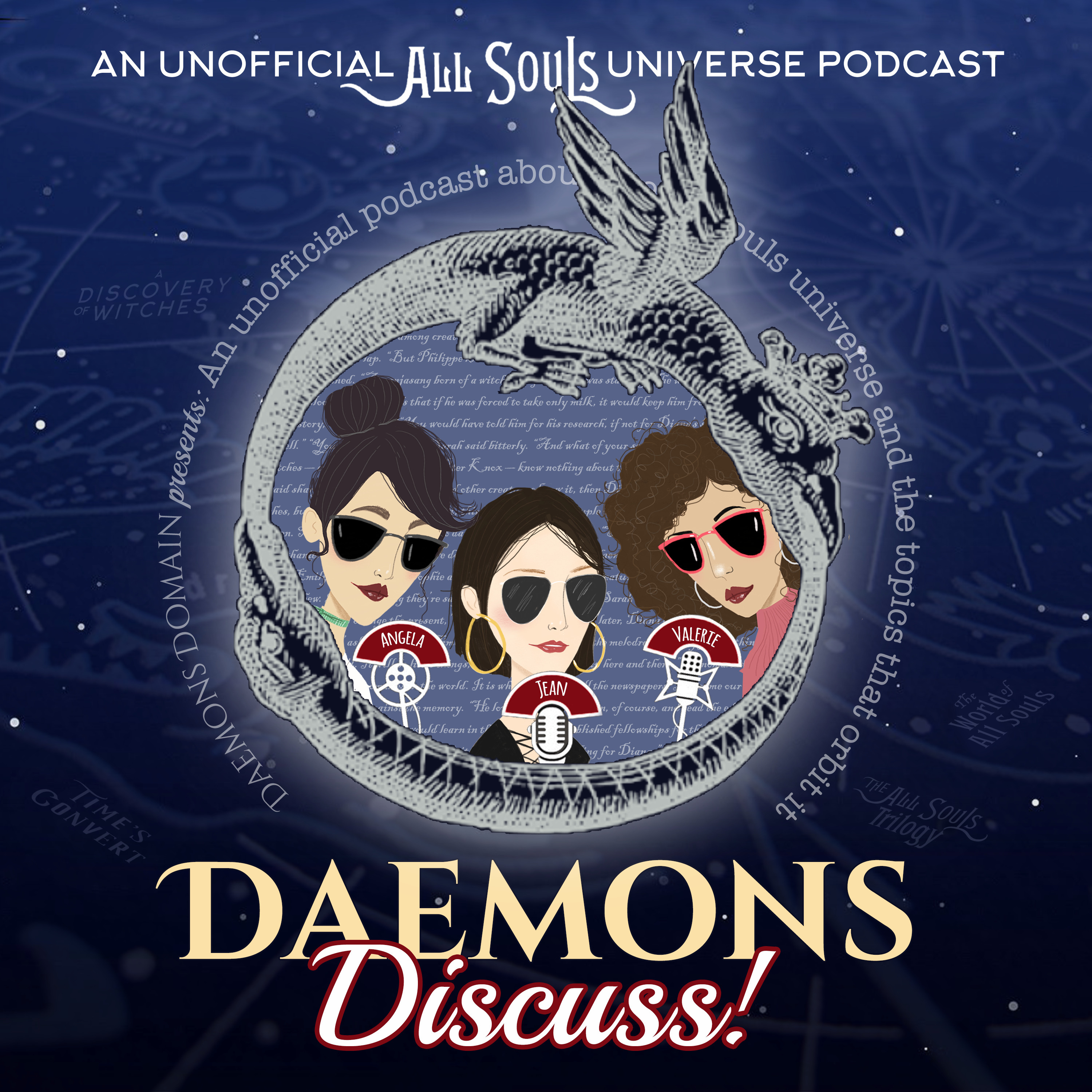 Search Results placeholder
Description by Daemons Discuss!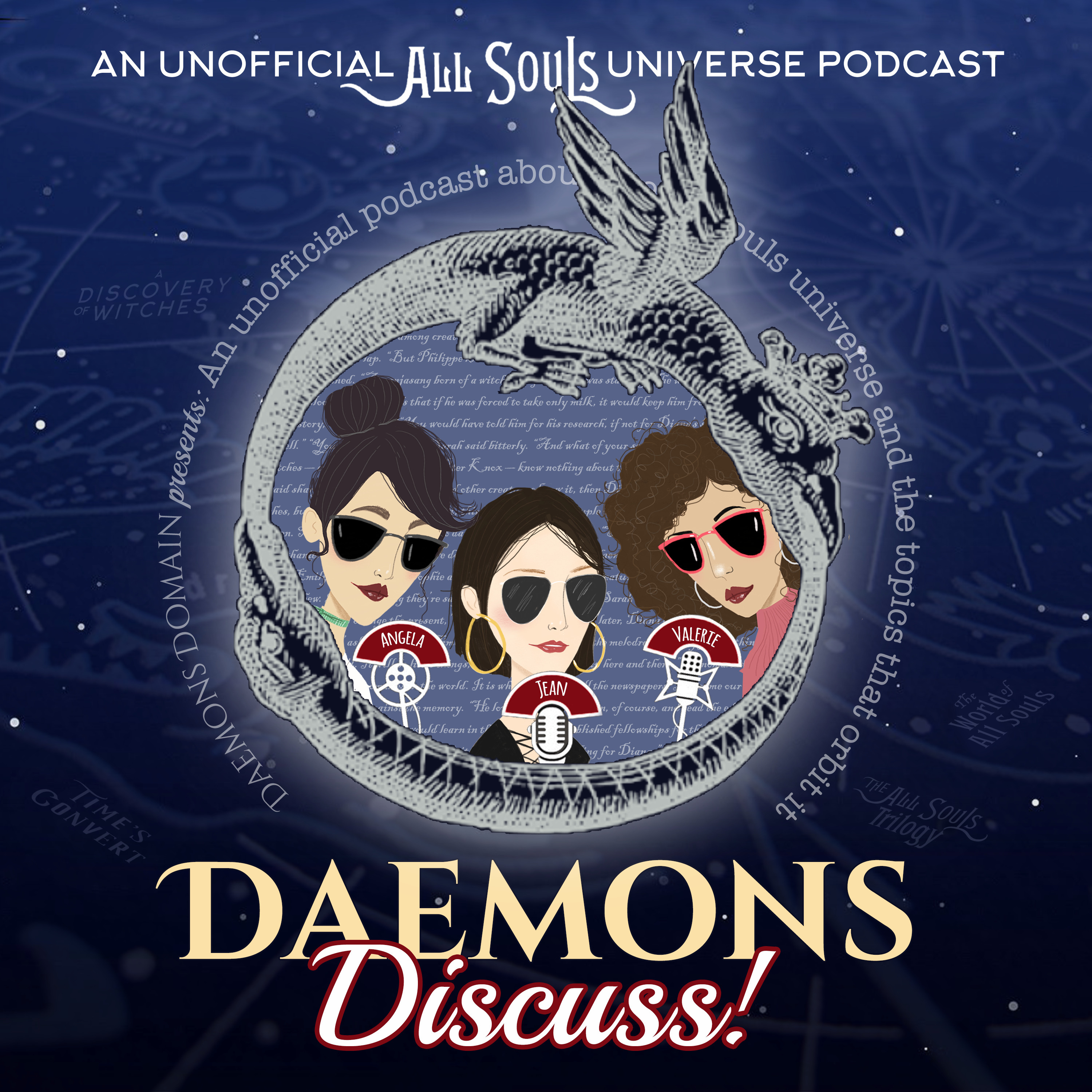 Hi! We're Angela, Jean & Valerie -- aka
'The Daemons'
-- we talk about the All Souls Series by Deborah Harkness. This includes the trilogy (
A Discovery of Witches, Shadow of Night, The Book of Life
),
Time's Convert
, and
The World of All Souls
and any future books incoming to the universe at large. As new episodes are released in the US/Canada, we also unpack the television series based on these beloved books (titled
A Discovery of Witches
). Go on! Put in your ear buds, pull up your chair, bring your beverage of choice and join us! We promise that we won't bite ... we'll leave that for the vampires.
All Souls-ing since 2012, the Daemons run the online fanzine,
Daemons Domain
-
series + fandom news, giveaways & All Souls magic.
---
See acast.com/privacy for privacy and opt-out information.
Subscribe or follow this podcast:
All Souls-ing since 2012, we are the Daemons – All Souls Trilogy (by Deborah Harkness) enthusiasts exploring the All Souls universe in this unofficial fan podcast.
Explore more
TV & Film podcasts
Visit podcast
A random podcast 🎲
Featured
Mobility with Impact (ft. John Saffrett)
Economy, planet, markets and you
We are a mobile species. With the exponential development of transportation technologies and modes over the past centuries, we can now travel faster and further than ever before. But how will the world of transportation evolve by 2050? Will autonomous cars powered by AI and hyperloops with pods reaching speeds of 1000 km/h replace human drivers?
In this new episode of 2050 Investors, Kokou Agbo-Bloua wonders if we could really design a more sustainable way of getting around and contemplate a carbon-free future of transportation. He also asks John Saffrett, ALD Automotive's Deputy Chief Executive Officer, to share his perspective on mobility and the way car manufacturer have to adapt. 
"2050 Investors" offers an investigation into tomorrow's economic and market mega-trends, ahead of 2050's global sustainability targets. Sourcing information directly from market practitioners, the financial press, research reports, the podcast provides you with insights from all around the globe. New episodes once every three weeks: please subscribe, leave comments and spread the word! 
Credits. Presenter & Writer: Kokou Agbo-Bloua. Editor: Julien Moity, Vincent Nickelsen. Production Designer: Emmanuel Minelle, Radio K7 Creative. Executive Producer : Fanny Giniès. Sound Director: Antoine Larchet. Music: Rone. Graphic Design: Cedric Cazaly.

Whilst the following podcast discusses the financial markets, it does not recommend any particular investment decision. If you are unsure of the merits of any investment decision, please seek professional advice. 
Search Results placeholder