One Step Beyond
Ep. 34: Having a Hemorrhage
For this episode, the last in Series 1 of One Step Beyond, we flip the script, and allow regular host Tony Fletcher to be interviewed by guest host Paula Lucas about his recent brain hemorrhage – and how lucky he feels to have fallen into the small percentage of people who get to walk away unscathed. Paula asks the questions surely pounding away in the back of your mind (ouch!), like:
How did the hemorrhage come about?
Is it true that a hemorrhage manifests as your 'worst headache ever'?
Is it true that 'your worst headache ever' is like 'your biggest migraine on Motörhead'?
Is every hemorrhage caused by an aneurysm, and if not, what's the difference
What is the difference between a subachnaroid hemorrhage and an intracerebral hemorrhage?
Where does hyponatremia and hypertension fit into this?
Does there have to be a triggering incident?
How does it feel to go over 48 hours without caffeine?
What is an angiogram? And how does it differ from a CT (or Cat) scan?
And can anyone other than a neurosurgeon pronounce the words "Perimesencephalic non-aneurysmal subarachnoid haemorrhage" without getting tongue-tied?
Actually, a few of those questions were not asked during the interviews, which is why the answers are given above!
Seriously – because this was serious – we ask and we attempt to answer this question: does a healthy and active, even athletic lifestyle invite a hemorrhage, or does it make it more likely we can survive one?
At the end of this Episode, Tony says farewell to One Step Beyond – for now – as he launches The Jamming! Fanzine Podcastand you get to hear the trailer. Subscribe wherever you get your podcasts or via https://shows.acast.com/the-jamming-fanzine-podcast
Questions/comments/suggestions/free beer? Use this e-mail [email protected], where you can also subscribe to the newsletter.
Or, find One Step Beyond on social media at:
Instagram is OneStepBeyondPodcast
Facebook is One Step Beyond with Tony Fletcher
Twitter is OneStepBeyondP1
Support this show http://supporter.acast.com/onestepbeyond.
---
See acast.com/privacy for privacy and opt-out information.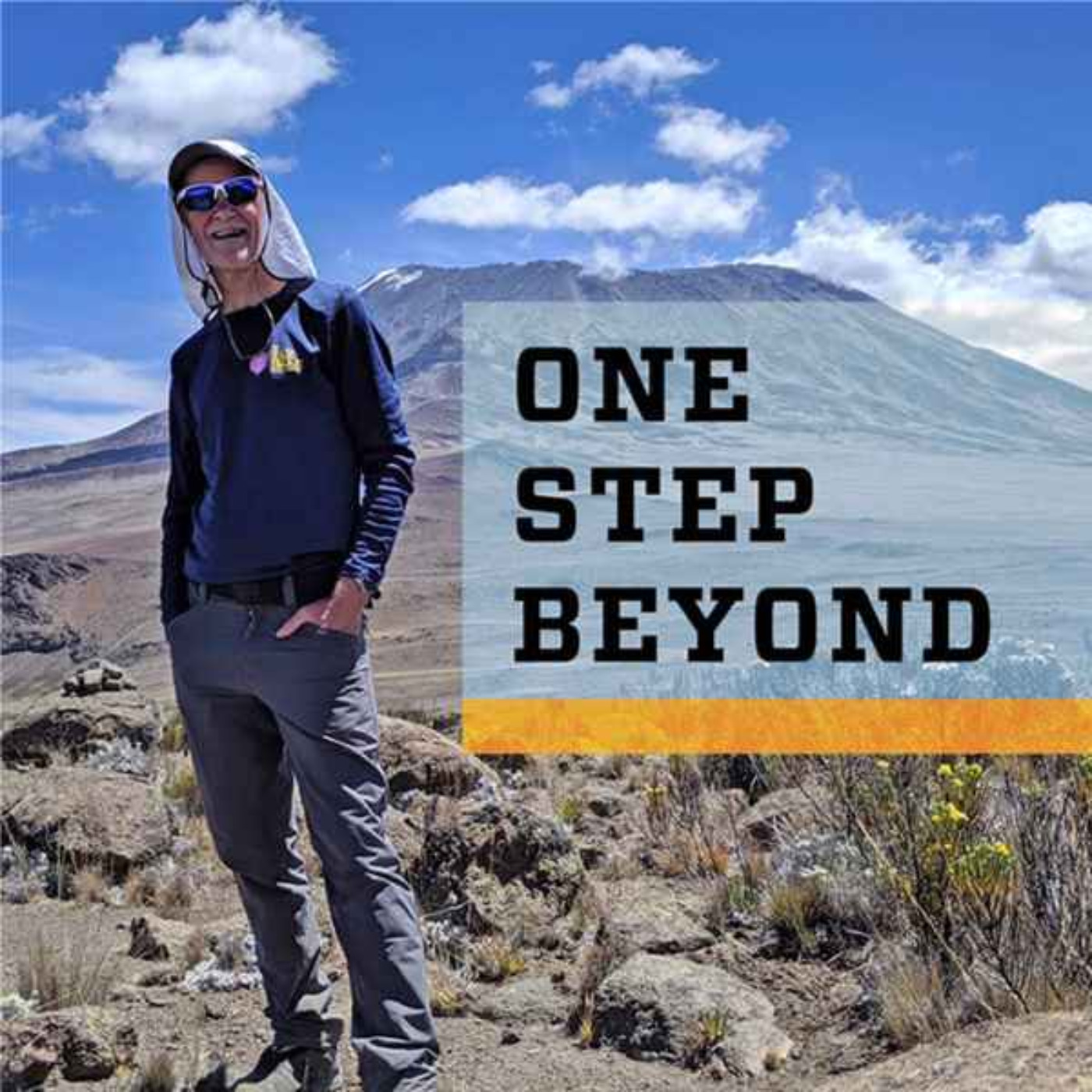 Search Results placeholder
Description by One Step Beyond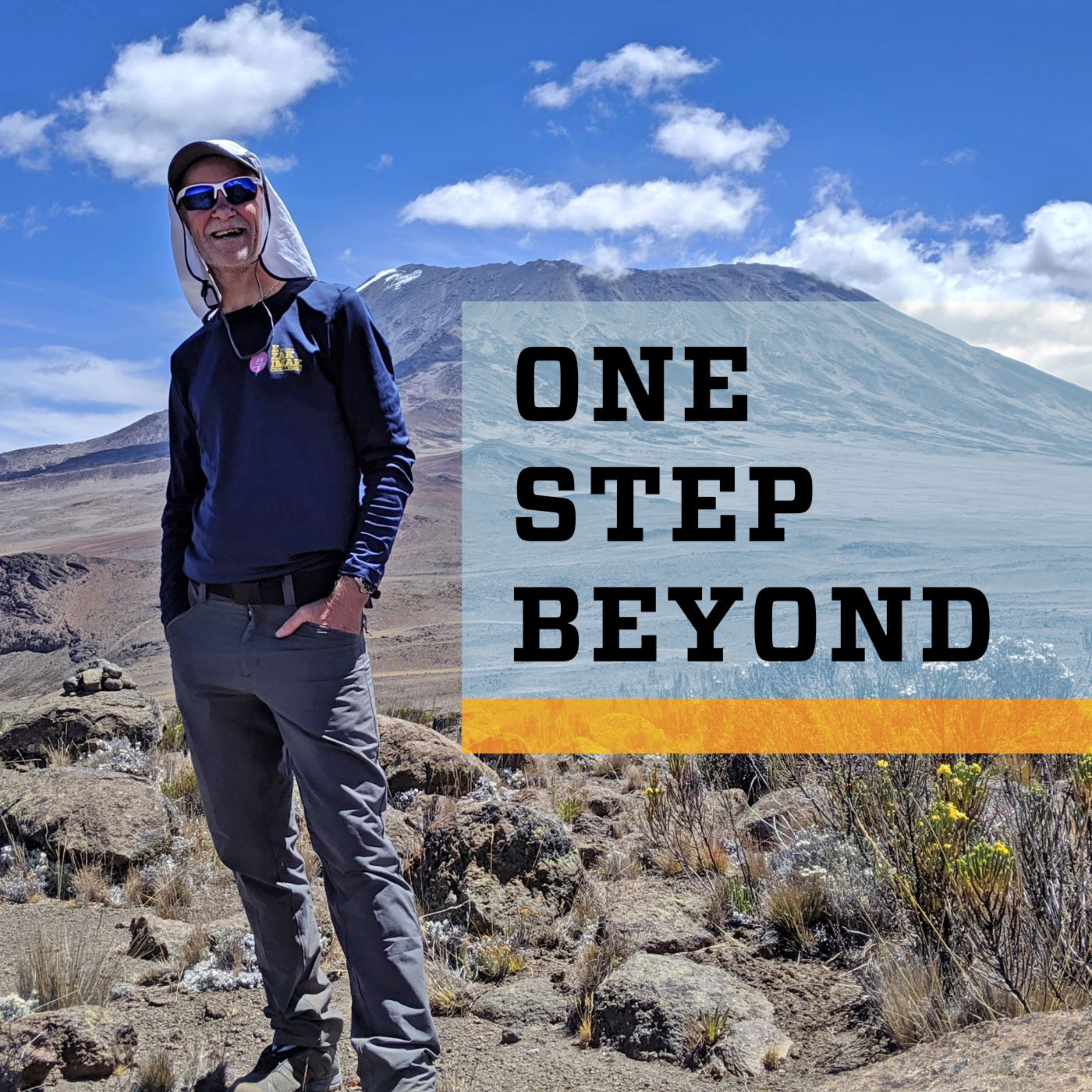 Hey you… Join author, runner, broadcaster, and traveler Tony Fletcher on this show about positively engaging with the world outside our door.
Whether it's to hike a local trail or climb a distant mountain, move to a new country or travel somewhere unusual, run a first 5k or tackle an ultra-marathon, One Step Beyond documents people who take a step outside their comfort zone to enrich their life. Over the course of 30+ episodes, our shows have featured guests from Kenya, Nepal, Tanzania and Colombia, as well as the USA and UK, talking about a wide range of topics.
Those guests have included: a rock star and a former professional athlete who have set up important initiatives, everyday young people who have reinvented their lives, a double amputee war veteran who has nonetheless taken on incredible physical challenges, a Zen Buddhist teacher who authored a book on running, one American who moved to Bogota who set up an art colony, and another who gave up dreams of becoming a professional ventriloquist to instead find a new life as an award-winning wildlife photographer.
We have talked to the pioneering founder of Africa's first running shoe company, to a family that traveled round the world together for over two years, and to a teacher who founded a travel company to support students of color, along with several of his students. We have also talked to amateur adventurers of all ages who have set themselves fierce goals - like walking the length of India, or running the Sparta course in Greece unaided - and achieved them. The show includes several episodes recorded on location, beginning with a 4-part documentary about climbing Kilimanjaro, but also including in-the-field tips on hiking without navigational tools and running on trails; how to master an ultra-marathon; and how to give up your possessions and start a new life. Shows generally stay under an hour, include additional commentary and information, and do not shy away from current affairs.
Tony Fletcher is the British-born author of ten books, including best-selling biographies of Keith Moon, Wilson Pickett, R.E.M. and The Smiths. In 2016, he backpacked around the world with his wife and then 11-year old younger son. In 2019 he hosted and wrote "It's A Pixies Podcast." A keen runner, with dozens of road and trail marathons to his name, he lives in Kingston, New York.
Questions or comments or to Subscribe to the One Step Beyond newsletter: [email protected]
Support this show http://supporter.acast.com/onestepbeyond.
---
See acast.com/privacy for privacy and opt-out information.
Subscribe or follow this podcast:
Take a step outside your comfort zone and enrich your life.
Explore more
Health podcasts
A random podcast 🎲
Featured
Mobility with Impact (ft. John Saffrett)
Economy, planet, markets and you
We are a mobile species. With the exponential development of transportation technologies and modes over the past centuries, we can now travel faster and further than ever before. But how will the world of transportation evolve by 2050? Will autonomous cars powered by AI and hyperloops with pods reaching speeds of 1000 km/h replace human drivers?
In this new episode of 2050 Investors, Kokou Agbo-Bloua wonders if we could really design a more sustainable way of getting around and contemplate a carbon-free future of transportation. He also asks John Saffrett, ALD Automotive's Deputy Chief Executive Officer, to share his perspective on mobility and the way car manufacturer have to adapt. 
"2050 Investors" offers an investigation into tomorrow's economic and market mega-trends, ahead of 2050's global sustainability targets. Sourcing information directly from market practitioners, the financial press, research reports, the podcast provides you with insights from all around the globe. New episodes once every three weeks: please subscribe, leave comments and spread the word! 
Credits. Presenter & Writer: Kokou Agbo-Bloua. Editor: Julien Moity, Vincent Nickelsen. Production Designer: Emmanuel Minelle, Radio K7 Creative. Executive Producer : Fanny Giniès. Sound Director: Antoine Larchet. Music: Rone. Graphic Design: Cedric Cazaly.

Whilst the following podcast discusses the financial markets, it does not recommend any particular investment decision. If you are unsure of the merits of any investment decision, please seek professional advice. 
Search Results placeholder