The Decrypt Daily: Bitcoin & Cryptocurrency News Podcast
Sept 21: Blood, Hacks, & Burger King
Follow The Decrypt Daily
Twitter: @decryptmedia
Website: Decrypt.co
Follow me on :
Twitter: @MatthewDiemer
IG: @MatthewADiemer
FB Page: https://www.facebook.com/thedecryptdaily
FB Group: https://www.facebook.com/groups/thedecryptdaily
Email: [email protected]
Matthew Diemer For Congress OH16
Diemerforcongress.com
https://secure.actblue.com/donate/diemer-personal
——————————————————————
Spaces
https://www.youtube.com/watch?v=VkR4db_grAs
Solana Blames 'Denial of Service Attack' for Last Week's Downtime
https://decrypt.co/81375/solana-blames-denial-of-service-attack-for-last-weeks-downtime
Avalanche DeFi Platform Vee Finance Suffers $35M Hack
https://decrypt.co/81400/avalanche-defi-platform-vee-finance-suffers-35m-hack
Over $1 Billion in Crypto Futures Liquidated Amid Evergrande Concerns
https://decrypt.co/81395/over-1-billion-crypto-futures-liquidated-amid-evergrande-concerns
Bitclout Founder Reveals DeSo, a $200M Blockchain to Take on Facebook
https://decrypt.co/81380/bitclout-deso-blockchain-diamondhands
Third of U.S. Swing State Voters Favor Crypto as Payment: Newsweek
https://decrypt.co/81389/third-of-u-s-swing-state-voters-favor-crypto-as-payment-newsweek
Binance Halts Derivatives Products in Australia
https://decrypt.co/81386/binance-halts-derivatives-products-australia
Burger King Launches 'Keep It Real Meals' NFT Campaign
https://decrypt.co/81384/burger-king-launches-keep-real-meals-nft-campaign
Coin of the Day
https://bux-c.com
——————————————————————
Music:
Say Good Night by Joakim Karud https://soundcloud.com/joakimkarud
Creative Commons — Attribution-ShareAlike 3.0 Unported— CC BY-SA 3.0
Free Download / Stream: http://bit.ly/2RzhBOn
Music promoted by Audio Library https://youtu.be/SZkVShypKgM
Track: Future Disco — Vendredi [Audio Library Release]
Music provided by Audio Library Plus
Watch: https://youtu.be/zW2bU3ZnL9Q
Free Download / Stream: https://alplus.io/future-disco
Here comes the money
https://www.youtube.com/watch?v=o0ZpesMYF6A
https://www.youtube.com/watch?v=n695sgmV3EQ
Coins sound effect no copyright
https://www.youtube.com/watch?v=RPzV4gqx34A
https://twitter.com/trippybunnynft?lang=en
——————————————————————
Financial Disclosure: Matthew Aaron is a holder of cryptocurrencies, digital assets, and other stocks.
*** this is not financial or legal advice***
© Copyright 2021 Matthew Aaron Podcasts LLC All Rights Reserved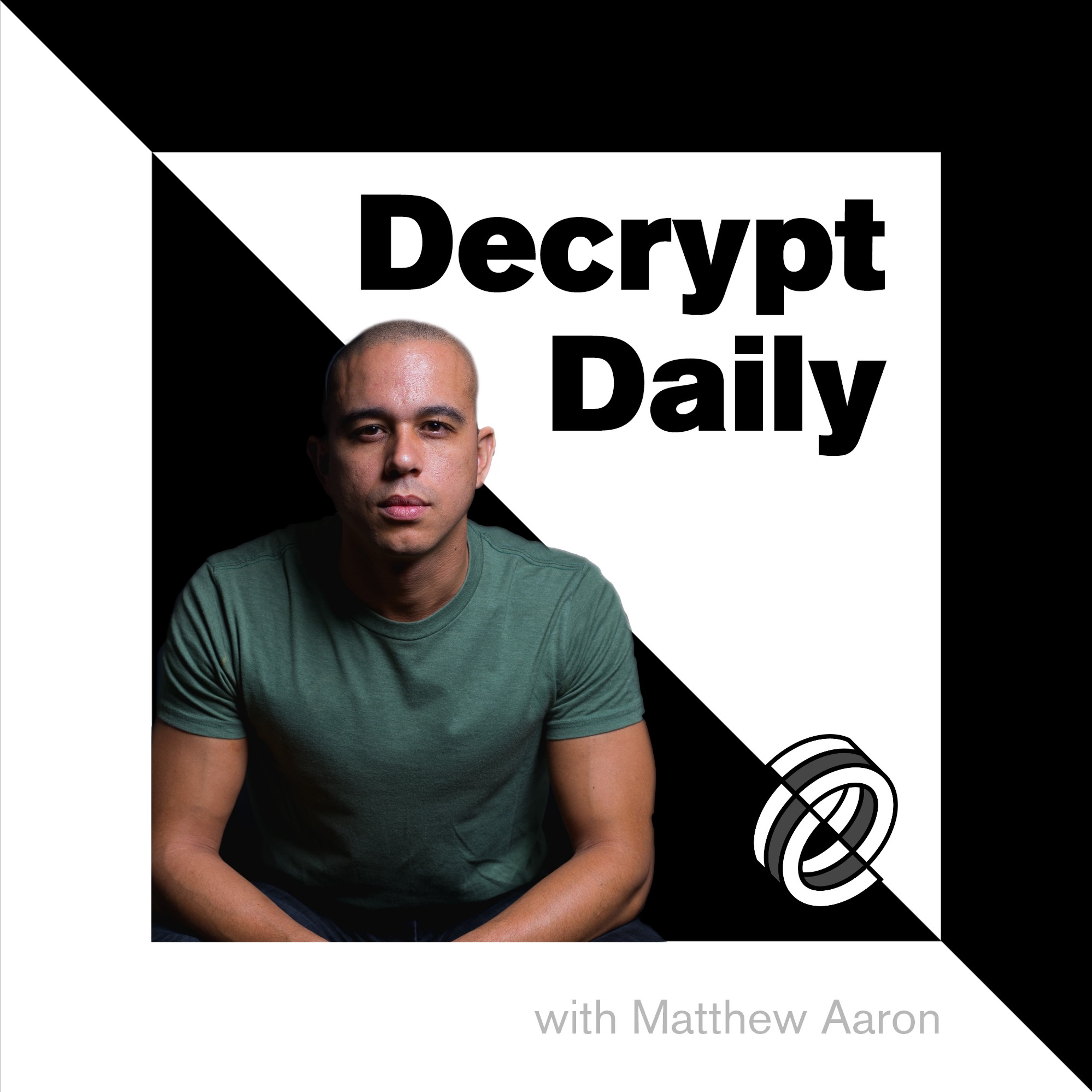 Search Results placeholder
Description by The Decrypt Daily: Bitcoin & Cryptocurrency News Podcast
Stay on top of Bitcoin news with our daily podcast! Join Matthew Aaron and his special guests every day, as they take you through breaking news and crypto market updates.
Subscribe or follow this podcast:
With Decrypt podcast, dive into the top story each day, learn about the hottest topics & trends, and listen to special guests and expert insights.
Explore more
Business podcasts
A random podcast 🎲