UNCHAIN your inner strength
UNCHAIN your inner strength
ANXIETY…Does it ever go away? With Vikki Louise, Life Coach and Host of F*uck Anxiety & Get Sh*t Done Podcast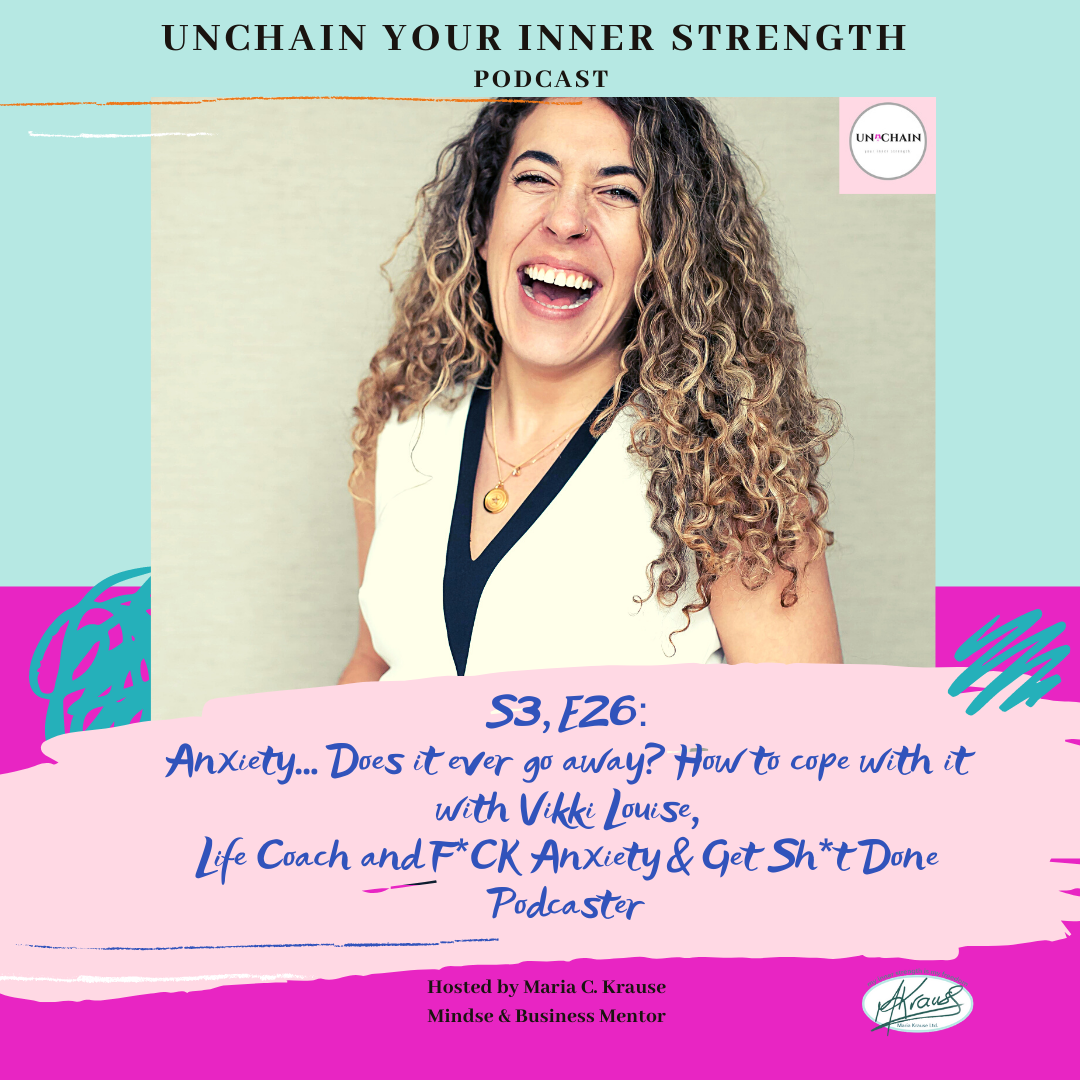 Hey Soul Sister,
Welcome to another episode of UNCHAIN YOUR INNER STRENGTH podcast. A place to help entrepreneurs OWN their unique story, inspire, heal, and make a bigger impact.
Entrepreneurs worldwide jump into this podcast to bring you their most valuable mindset and business tools, tips, and strategies to help you become more successful in the areas of your life that you need most.
.
.
Have you ever watched the last series of  "13 Reasons Why"? If you have, then you can remember one of the last episodes when they graduate and the main actor gives a speech about anxiety among teenagers… If you haven't, I highly recommend you to check it out.
I had chills down the spine when I heard that speech, I could feel his words and the way he was feeling when he was talking about anxiety. It brought me back to when I used to suffer from panic attacks, fearful of leaving my house, not wanting to interact with anyone. It's not the nicest or easiest thing to go through.
 In this week's episode of UNCHAIN YOUR INNER STRENGTH, I had the pleasure to interview Vikki Louise in my podcast this week, a Life Coach and the host of [email protected] ANXIETY AND GET SH*T DONE podcast. I had 1000s questions.
DOES IT EVER GO AWAY???
Vikki was able to walk me through why we feel anxious and where this feeling emerges from. Anxiety might make us feel uncomfortable but if we can understand it, then we can learn how to develop a different relationship with anxiety and define it to yourself in a way that is useful.
.
.
Here's more about Vikki Louise and where you can find her:
Vikki helps ambitious overachievers manage their anxiety & procrastination. She has a no BS approach blending neuroscience, evolutionary biology, life coaching tools and tough love that teach people to understand their brain, rewire their thinking - and feel empowered to get things done. Vikki graduated from the London School of Economics and worked in finance and tech for years before moving into coaching full time. She hosts the top rated F*CK Anxiety & Get Sh*t Done podcast (http://bit.ly/fckanxietypodcast on iTunes)
.
.
I am your host, Maria C. Krause. Mindset & Business Mentor, Podcaster and Publisher.
To book a FREE strategy call to find out if we are the right fit to work together and help you take your business to The Next Level, click HERE!
Let's make it happen Queen! Let's say goodbye to this crazy year doing a happy happy dance!
Love, Light, be
Maria. XXX
A podcast created to help new entrepreneurs develop their unique skills and superpowers and create soul based successful businesses. Tips and advice from experts entrepreneurs on visibility, marketing, branding, social media strategies, mindset, and everything that will help you take your business to the next level. Hosted & creates by Maria C. Krause. Mindset & Business Mentor.
This description is from UNCHAIN your inner strength.
Women sharing their best tips and advice to empower others to become more confident and secure of who they are and start living life in their own terms
Self-Help podcasts
Visit podcast
A random podcast 🎲