Just Get Started
Jill Petersen & Mary Frances (Ep.129) – Founders, Girls Mentorship LLC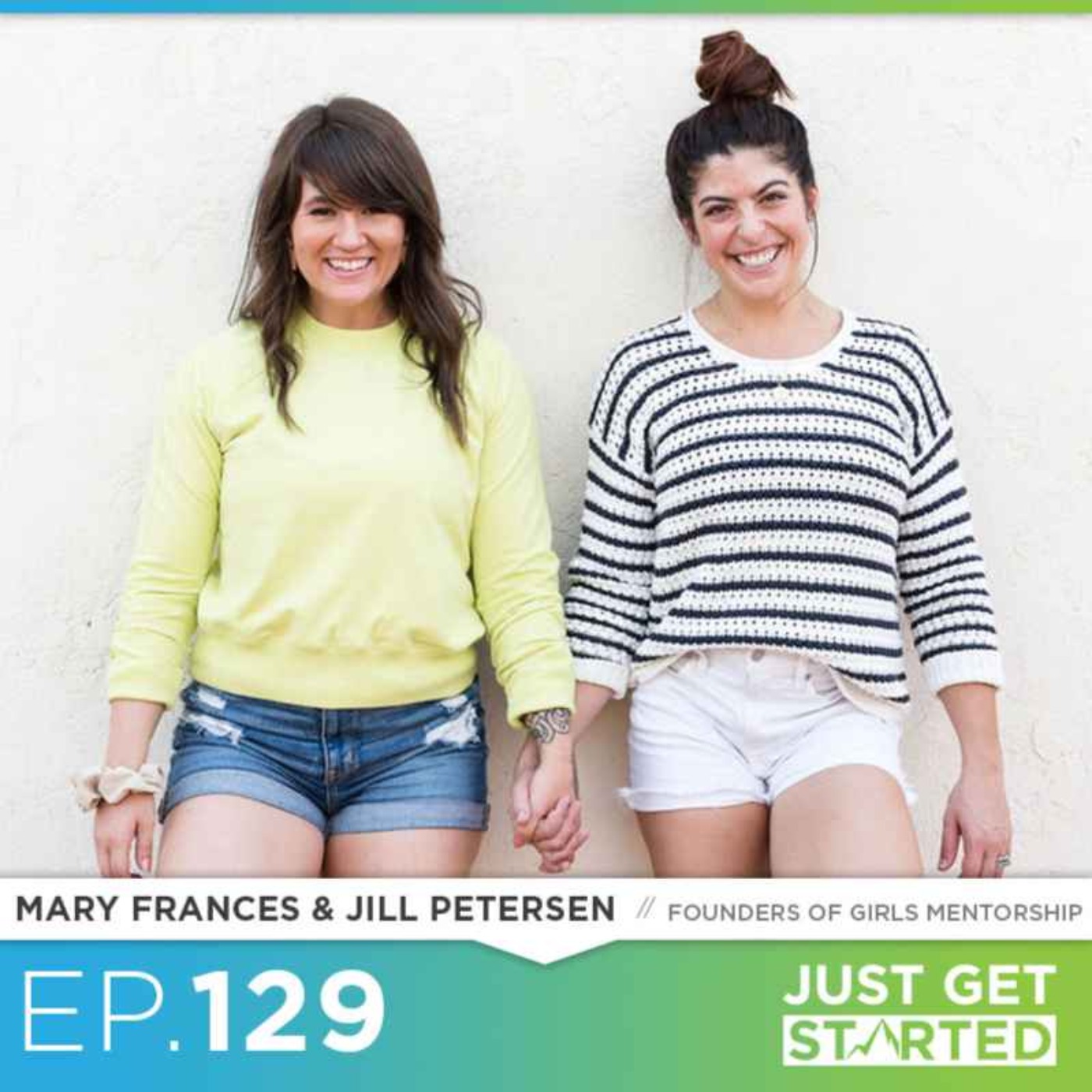 Search Results placeholder
Episode 129 features the Founders of Girls Mentorship LLC, Jill Petersen and Mary Frances and they share their story of why they are on a mission to help teenage girls with mentorship to help guide them on a path to happiness.
Find Jill & Mary Online:
Website: www.girlsmentorship.com
Instagram: https://www.instagram.com/girlsmentorship/
YouTube: https://www.youtube.com/channel/UCduf5N-f0jdzFw6-HufEGaA?view_as=subscriber
Facebook: https://www.facebook.com/Girls-Mentorship-115822946914962
TikTok: Girls Mentorship
About Jill & Mary:
Jill Petersen is an experienced coach and former leader at Lululemon for nearly a decade. Her superpower lies within connecting and building trust quickly to overcome self-doubt and help people find their greatness. Jill holds a B.A. in Interdisciplinary Studies (Communication) and (Mass Communication) from Arizona State University, as well as receiving a certificate in Mindfulness Leadership. She is Yoga Alliance, a 200-hour certified yoga and mindfulness teacher. Jill is the Co-Founder of Girls Mentorship and has experienced firsthand the importance of a mind, body, and soul approach to both everyday wellness and the achievement of accomplishing goals. She believes, "Uncommon results begin with an uncommon mindset." She gets excited about the opportunity to make an impact on girls and help them pair their feelings work for them, not against them.
Mary Frances is an avid community supporter, adult cheerleader, experienced coach, and leader. Part of her joy as a mentor is not just being the one who leads but also having the ability to raise others up in order to live into their own leadership potential. She has a BS from ASU in Exercise and Wellness as well as an MBA in the school of hard knocks. She officially started her entrepreneurship journey as a certified CrossFit L2 coach and gym owner where she worked with hundreds of kids, teens, and adults not only teaching them the basics of fitness but also the skills of habit formation, community, mental toughness, personal responsibility, goal setting, and leadership. Mary is the Co-Founder of Girls Mentorship and is also an H-O-T leader: Humble, Open, and Transparent sharing about her tumultuous past; dealing with family trauma, abuse, CPS, and a broken home all of which has led to a strong desire to want to break the mold and assist others in doing the same.
........
Follow the Just Get Started Podcast on Instagram at @justgetstartedpodcast or Facebook https://www.facebook.com/justgetstartedpodcast and to learn more about me and what's going on in my world check out https://www.brianondrako.com/now/ or find me on Instagram at @brianondrako or twitter @brianondrako
As always, I'd appreciate a 5-star review on Apple Podcasts if you believe I've earned it. -> Leave a Review
---
See acast.com/privacy for privacy and opt-out information.
The phrase Just Get Started can mean a lot of things to a lot of different people but the overarching premise is that you have one life to live so why not make the most of it. Forget the past, whatever happened has happened. Start focusing on the future and where you want to take your life. We all know that being happy is what we all strive for but instead of trying to achieve small moments of happiness why not focus on achieving lifelong fulfillment. Not only will you be a better person but your relationships and career will be positively impacted as well.
Hopefully, you'll be inspired to take the "leap of faith" and decide that you want more out of your life than you ever imagined you could have before. But, you have to take the first step. So, what's holding you back? Just Get Started!...
---
See acast.com/privacy for privacy and opt-out information.
This description is from Just Get Started.
Just trying to motivate people to be fulfilled in life…that's the mission!
Startup podcasts
Visit podcast
A random podcast 🎲