Just Get Started
#206 Jordan Gross on Writing, Publishing, and Book Signings
Episode 206 features a former guest of the Podcast, Jordan Gross, and he shares some of his "new" getting started moments that are helping to progress his mission forward.
Find Jordan Online:
Website: https://jordan-gross.com/
Linkedin: https://www.linkedin.com/in/jordangross9/
Instagram: https://www.instagram.com/jordan_gross_author/
Medium: https://jordan-gross.medium.com/
About Jordan:
Jordan is a son, grandson, writer, speaker, guide, editor, and soon-to-be therapist. He is a Northwestern and Kellogg School of Management graduate where he studied absolutely nothing to do with writing. He's a former startup founder, restaurant manager, and soccer goalie. A solopreneur, podcast host, and 2x TEDx speaker, he is also the #1 bestselling author of Getting COMFY: Your Morning Guide to Daily Happiness, The Journey to Cloud Nine, and What Happens in Tomorrow World?
……..
Thank you for listening!
If you wanted to learn more about the host, Brian Ondrako, check out his "Now" Page – https://www.brianondrako.com/now or Sign up for his Weekly Newsletter and 3x a Week Blog – https://brianondrako.com/subscribe/
---
See acast.com/privacy for privacy and opt-out information.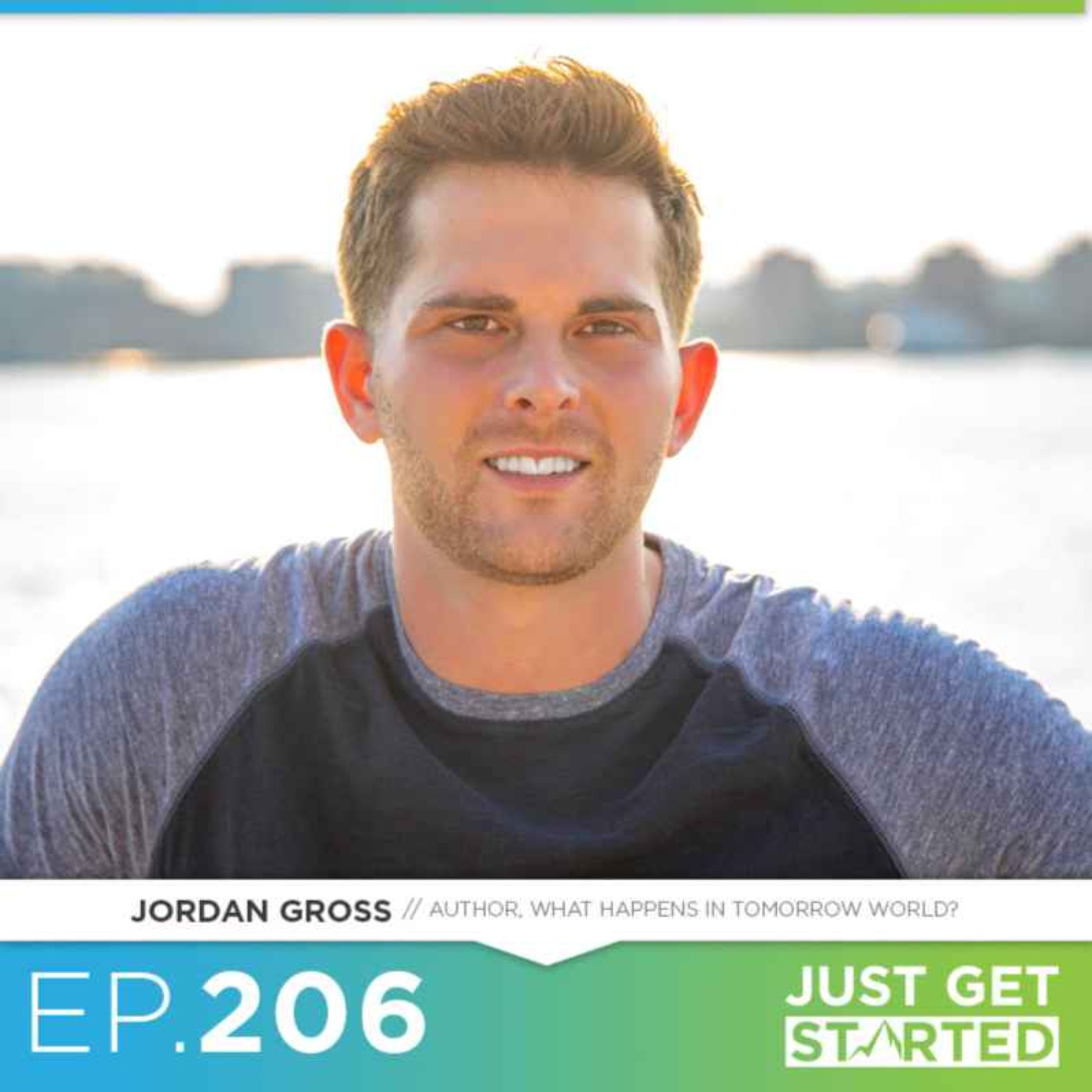 Description by Just Get Started
The Just Get Started Podcast is all about the "getting started" moments that people have taken to overcome their fear, anxiety, and self-limiting beliefs and get on the road to a more fulfilling life. The lessons, stories, and insights shared in each episode are little morsels of knowledge that might help you get started discovering your own happiness and pointing the compass in a new direction going forward.
Brian Ondrako started this Podcast in 2017 because of the many years he struggled with figuring out his "North Star" and not having the confidence to put out the projects that he loved to create and that might help impact others in a positive way. Through many years of discovery, Brian uncovered that he is a "Navigator" and his mission is to help navigate people to Just Get Started on a clear path toward happiness. He lives his core mission through this Podcast, as an Author, Coaching, and Consulting, and many other endeavors that might allow him to help others live a better life.
---
See acast.com/privacy for privacy and opt-out information.
Subscribe or follow this podcast:
Just trying to motivate people to be fulfilled in life…that's the mission!
Explore more
Startup podcasts
Visit podcast
A random podcast 🎲
Featured
Mobility with Impact (ft. John Saffrett)
Economy, planet, markets and you
We are a mobile species. With the exponential development of transportation technologies and modes over the past centuries, we can now travel faster and further than ever before. But how will the world of transportation evolve by 2050? Will autonomous cars powered by AI and hyperloops with pods reaching speeds of 1000 km/h replace human drivers?
In this new episode of 2050 Investors, Kokou Agbo-Bloua wonders if we could really design a more sustainable way of getting around and contemplate a carbon-free future of transportation. He also asks John Saffrett, ALD Automotive's Deputy Chief Executive Officer, to share his perspective on mobility and the way car manufacturer have to adapt. 
"2050 Investors" offers an investigation into tomorrow's economic and market mega-trends, ahead of 2050's global sustainability targets. Sourcing information directly from market practitioners, the financial press, research reports, the podcast provides you with insights from all around the globe. New episodes once every three weeks: please subscribe, leave comments and spread the word! 
Credits. Presenter & Writer: Kokou Agbo-Bloua. Editor: Julien Moity, Vincent Nickelsen. Production Designer: Emmanuel Minelle, Radio K7 Creative. Executive Producer : Fanny Giniès. Sound Director: Antoine Larchet. Music: Rone. Graphic Design: Cedric Cazaly.

Whilst the following podcast discusses the financial markets, it does not recommend any particular investment decision. If you are unsure of the merits of any investment decision, please seek professional advice. 
Search Results placeholder